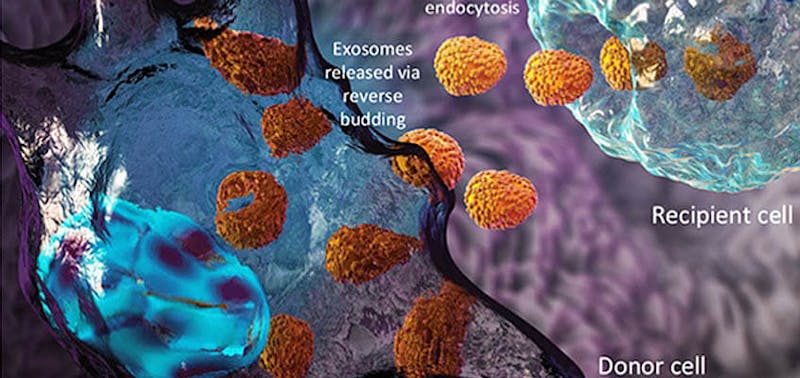 What are Exosomes and what do they do?
Exosomes or Extracellular Vesicles (EVs) are primarily used in cell signaling and are found in all bodily fluids. Cells communicate with each other using cytokines these are proteins that are excreted by one cell and tell another cell what to do and "home in on sites of injury or disease". Medicinal Signaling Cells (MSCs- Stem Cells) secrete exosomes to the site of Injury to promote healing and regeneration. As we age, our regenerative capacity declines because we have less stem cells and exosomes, therefore, obtaining exosomes from birth tissue is a valuable source.
Exosomes demonstrate a number of advantages distinct from their parent cells.
They can travel systemically without the risk of clumping (as is seen with large peripheral intravascular doses of MSCs). As much smaller particles, exosomes do not demonstrate a first pass effect into the lungs when administered intravascularly. Exosomes can cross the blood-brain barrier easily. Exosomes are not perceived as foreign by our innate and adaptive immune system and are able to evade the immune response. Exosomes from healthy stromal cells do not contain DNA, so that there is no risk of malignant transformation. Due to their size, exosomes allow for easy injection-based therapies. Alone, they can be delivered through needles as small as 30 gauge.
Hair Regeneration
Exosomes (MSC-EVs) have a potential to activate Dermal Papilla DP cells, prolonged survival, induce growth factor activation in vitro, and promotes hair growth in vivo. Reference
Rajendran
, R L et al. Extracellular vesicles derived from MSCs activates dermal papilla cell in vitro and promotes hair follicle conversion from telogen to anagen in mice Published: 14 November 2017
The best way to evaluate a patient is to arrange a personal, in-depth consultation. However, this is impossible for many patients who fly in from other parts of the country or world. For this reason we have developed the remote consultation package, which is an acceptable alternative to the in-person personal consult.
Once your photos and questionnaire are reviewed, we will telephone you to discuss your questions or concerns regarding the procedure. You will also be given a suggested treatment plan and the costs involved. Click here for more complete information on our free on-line hair restoration consultation process.