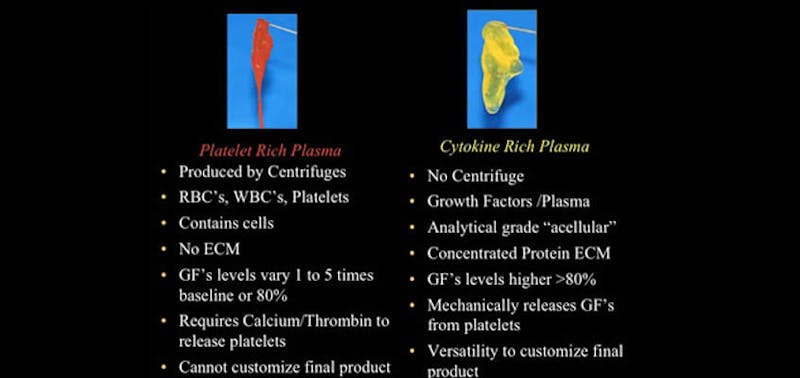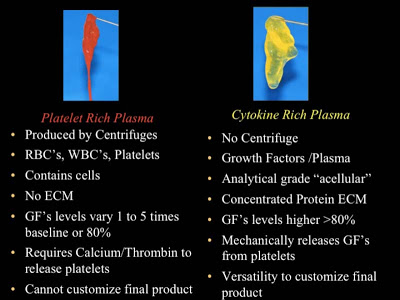 In our last Blog post we explained the difference between Platelet Rich Plasma (PRP) and Cytokine Rich Plasma (CRP). CRP contains the optimal levels of growth factors without the red blood cells (RBC), white blood cells (WBC), and platelet membranes. It also contains a natural bio-scaffold (ECM) with three times the levels of plasma protein levels needed for scaffold production contained in PRP.
CRP has advantages in non-surgical orthopedic injection treatments for tendons, ligament, muscle and arthritic joints because it does contain optimal levels of growth factors and cytokines, like "Interleukin IL-1ra antagonist", which has demonstrated in studies and in clinical use to be a powerful pain reducer especially in arthritic joint disease.
"In patients with osteoarthritis in the knee, ACS injections demonstrated a statistically significant improvement in pain scores compared to hyaluronic acid and saline injections. While these results are preliminary, it does appear that levels of IL-1ra higher than found in circulating blood can provide clinical benefit".
The following Case study is positive evidence of the use of CRP in a patient who had five knee surgeries facing the early stages of Osteoarthritis.
Case Study
This 36 year old patient underwent 5 knee surgeries for a fully torn ACL and four cartilage tears in both knees at various times. He presented with pain and decreased mobility and could not even bend down when trying to line up a putt. Listen to the patients results after just two treatments with CRP. Click on the link below to hear his story.
Call us for more information regarding all our Regenerative Medicine procedures! 727-791-3830
Feel free to email us at [email protected] with your questions or comments
The best way to evaluate a patient is to arrange a personal, in-depth consultation. However, this is impossible for many patients who fly in from other parts of the country or world. For this reason we have developed the remote consultation package, which is an acceptable alternative to the in-person personal consult.
Once your photos and questionnaire are reviewed, we will telephone you to discuss your questions or concerns regarding the procedure. You will also be given a suggested treatment plan and the costs involved. Click here for more complete information on our free on-line hair restoration consultation process.