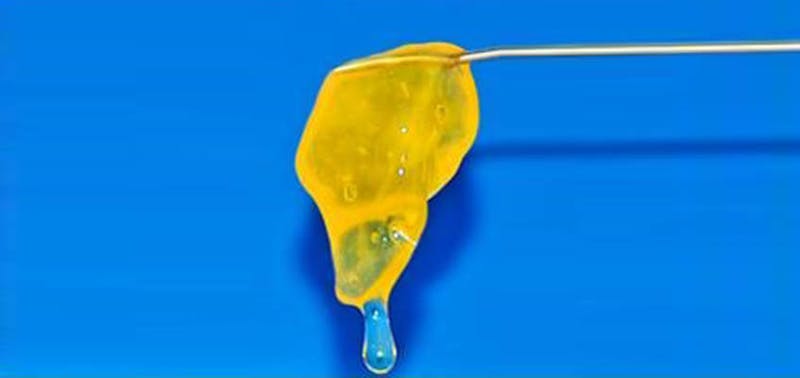 Cytokine Rich Plasma
Cytokine Rich Plasma is a product developed by OroGen BioSciences where Cytokines or Growth Factors (Protein's) contained in platelets can be released without the use of thrombin, calcium chloride or collagen and filtered, so that the final product is an analytical grade regenerative material made of your own protein.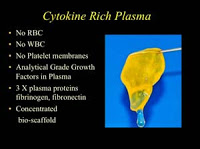 CRP contains the optimal levels of growth factors without the red blood cells (RBC), white blood cells (WBC), and platelet membranes. It also contains a natural bio-scaffold (ECM) with three times the levels of plasma protein levels needed for scaffold production contained in PRP.
Because recent studies suggest optimal platelet level "below 3.8 x 105platelets/uL have a suboptimal effect, and concentrations above 1.8 x 106platelets/uL may have a paradoxically inhibitory effect". 1 Additionally, the inclusion of leukocytes (White Blood Cells) in the preparation is also controversial because they are pro-inflammatory increasing tissue damage by releasing excessive amounts of reactive oxygen species in the inflammatory phase of muscle injury. 2
The inflammation process is a complex one involving protective cells of your body, white blood cells (leukocytes and macrophages). In Arthritis these white blood cells are attracted to the damaged joints and try to minimize the harm by dealing with what the cells consider "foreign"; that is, something that should not be there. In trying to defend against the affliction, these cells release oxidants as well as inflammation-causing molecules that can lead to further damage to the joint.
This same process is true in inflammatory hair loss conditions like Alopecia Areata. Researches are also finding that are finding that inflammation is becoming even more important in male and females pattern hair loss (Androgenic Alopecia) conditions.
In simpler terms, "it is a purer grade of your own regenerative material (growth factors in plasma proteins) because the cells that are not needed and may cause more inflammation have been filtered out. Therefore, CRP has the advantages of PRP, but we feel "it is more beneficial in tendon, ligament and bone repair as well as more advantageous in cosmetic collagen enhancement, fat-transfer and hair regeneration".
With CRP we are continuing to advance the science of regenerative medicine not only in hair restoration, but also in non-surgical applications for bio-enhanced Cosmetics skin rejuvenation, collagen induction and Orthobiologic injuries.
References 1- Weibrich G, Hansen T, Kleis W, Buch R, Hitzler WE. Effect of platelet concentration in platelet-rich plasma on peri- implant bone regeneration. Bone 2004;34:665-671. 2- Tidball JG. Inflammatory cell response to acute muscle injury. Med Sci Sports Exerc 1995; 27:1022-1032
Call us for more information regarding all our Regenerative Medicine procedures! 727-791-3830
The best way to evaluate a patient is to arrange a personal, in-depth consultation. However, this is impossible for many patients who fly in from other parts of the country or world. For this reason we have developed the remote consultation package, which is an acceptable alternative to the in-person personal consult.
Once your photos and questionnaire are reviewed, we will telephone you to discuss your questions or concerns regarding the procedure. You will also be given a suggested treatment plan and the costs involved. Click here for more complete information on our free on-line hair restoration consultation process.