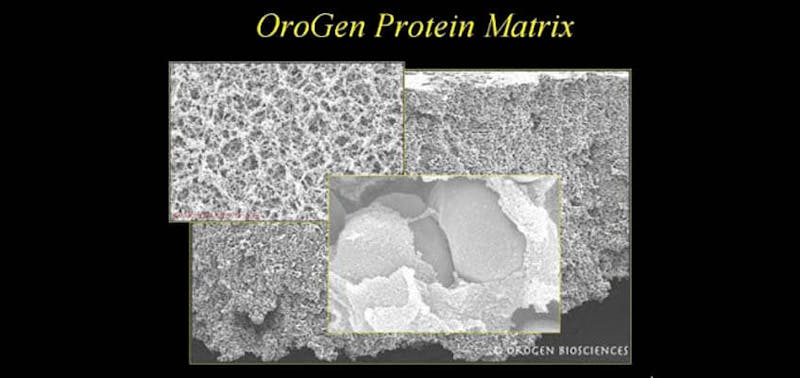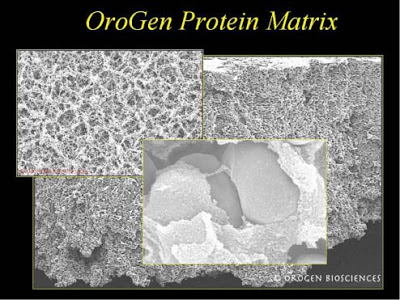 On May 30, 2008, in Rome, Italy I lectured on the importance of an extra cellular matrix ECM/PRP combination for hair regeneration at the ISHRS Workshop "Made in Italy". In the March/April 2009 issue of the International Hair Transplant Forum International we published the importance of having an extra cellular matrix (ECM) with PRP to provide a "scaffold for cellular proliferation" in hair regeneration. On March 26th, 2009 I posted the photos on my blog of our patented natural protein matrix, OroGen Plus, developed by my partner, Robert Brandt that he has used in wound care, Orthopedic, Cardiovascular and Cosmetic surgery since 2001.

Three years later, after the ISHRS Boston Meeting in 2011, it was reported that the combination of an extra cellular matrix (ECM), A Cell, a matrix made from "pigs bladder" and PRP was used to help heal donor scars and help regenerate hair. Finally, physicians are getting what I lectured on three years ago.

Since 2008, we have demonstrated hair growth in Androgenic Alopecia
(AGA), Alopecia Areata (AA) and now in Discoid Lupus (DL) with OroGen Plus, or a natural protein matrix ECM/PRP complex made from the patients own "protein" rich plasma. Since hair is made of protein does it not seem reasonable then an "ECM complex made of your own protein" entrapping growth factors would be a natural way to regenerate miniaturized hair? See Below.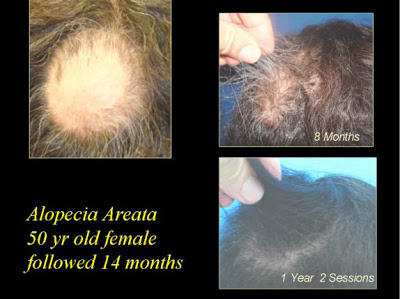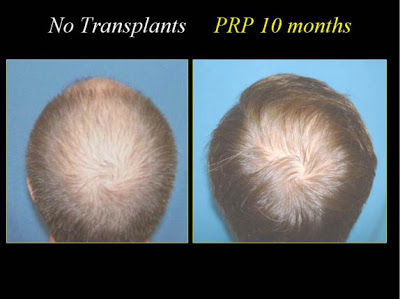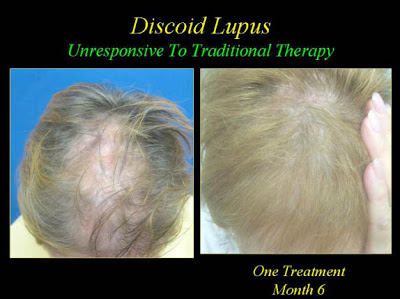 We feel the success of this complex is a combination of the powerful anti-inflammatory effects of PRP in the autoimmune disease processes like AA and DL where the stem cells are dormant and can then be "turned on" with our GF/ECM complex. In light of recent excellent studies by Garza, et al, Journal of Clinical Investigation, 2011 demonstrating the existence of stem cells in the follicles of bald scalp in AGA (Male Pattern) patients, we also feel the ECM/PRP complex may be "turning on" stem cells for a period of time in these patients.
The best way to evaluate a patient is to arrange a personal, in-depth consultation. However, this is impossible for many patients who fly in from other parts of the country or world. For this reason we have developed the remote consultation package, which is an acceptable alternative to the in-person personal consult.
Once your photos and questionnaire are reviewed, we will telephone you to discuss your questions or concerns regarding the procedure. You will also be given a suggested treatment plan and the costs involved. Click here for more complete information on our free on-line hair restoration consultation process.