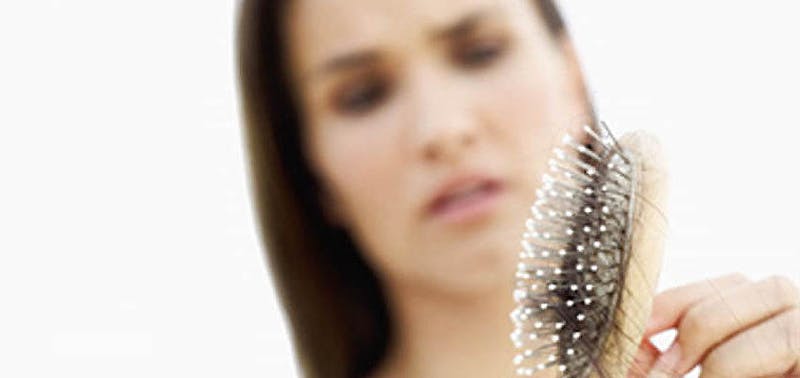 PRP/CRP can help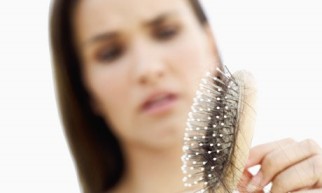 One of the most common complaints I hear today, especially with female patients, is "shedding hair", or the medical term, Telogen Effluvium (TE). Because there is so much confusion about shedding hair, I thought a brief explanation is in order.
This form of shedding and hair loss is not permanent, and generally reverses, but is quite distressing for patients. Increased shedding is acute, or sudden onset (less than 6 months). Chronic shedding is longer than 6 months. Both types are generally diffuse throughout the entire scalp. Patients complain that their hair is "less dense", thin, and lifeless.
The most common cause is psychological stress, fevers, and illness. Although, major diet changes, medications, scalp diseases, heavy metals, and immunizations are among other common causes.
Here is what we try to stress with these patients. The photo below (Fig 1) demonstrates the process when TE occurs. The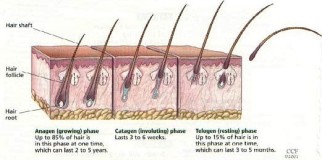 hair shaft falls (far right in Fig 1), the follicle remains, and a new hair will cycle back when it goes into the growing phase. This is not considered permanent hair loss!
Infusing high doses of your own proteins in PRP/CRP can help slow down the shedding process and jump-start the return to normal hair cycling safely!
Call our office now 941-952-3300 for more information and let us help you with your hair loss condition.
The best way to evaluate a patient is to arrange a personal, in-depth consultation. However, this is impossible for many patients who fly in from other parts of the country or world. For this reason we have developed the remote consultation package, which is an acceptable alternative to the in-person personal consult.
Once your photos and questionnaire are reviewed, we will telephone you to discuss your questions or concerns regarding the procedure. You will also be given a suggested treatment plan and the costs involved. Click here for more complete information on our free on-line hair restoration consultation process.