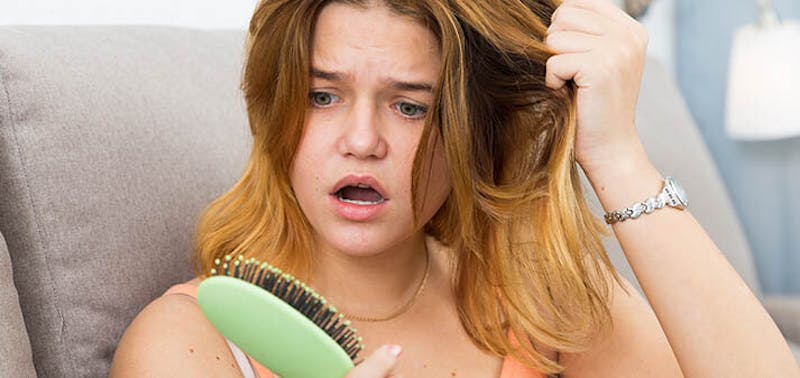 One of the most common complaints I hear today, especially with female patients, is I'm "losing my hair in handfuls". Because of the enormous psychological stress we are all under today with the COVID-19, undoubtedly many will experience excessive shedding of hair or the medical term, Telogen Effluvium (TE). The most common cause of TE is psychological stress, fevers, and illness. Although, major diet changes, medications, scalp diseases, heavy metals, and immunizations are among other common causes.
Fortunately, this form of shedding and hair volume loss is "not permanent", and generally reverses, but is quite distressing. Increased shedding is acute, or sudden onset, less than 6 months, while chronic shedding is longer than 6 months.
Additionally, psychological stress can accelerate Androgenic Alopecia or Male and Female thinning of hair. Both types are generally diffuse throughout the entire scalp. Patients will also complain that their hair is "less dense", thin, and lifeless.
Here is what we stress with these patients. The photo below (Fig 1) demonstrates the process when TE occurs.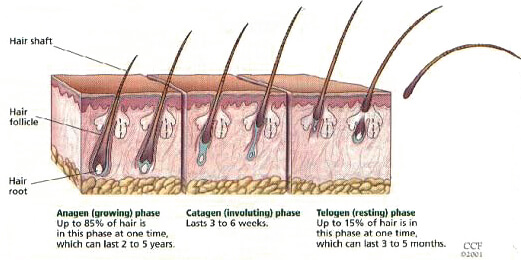 The hair shaft falls (far right, Fig 1), the follicle remains, and a new hair shaft will cycle back when it goes into the growing phase. This is not considered permanent hair loss! This is a natural process of the body regenerating hairs.
Infusing high doses of your own proteins in PRP/CRP/Matrix can help slow down the shedding process and jump-start the return to normal hair cycling safely! This fertilization of the hair and scalp is just one of the many ways we can restore the quality and character to your hair safely, without side effects. So stay safe at this difficult time and when the timing is right contact us and we will restore your hair!
Our office is open at this time
Call 941-952-3300 for more information and let us help you with your hair loss.