REDUCE THE AGING PROCESS, NATURALLY!
"What we have been developing and using since 2007 is now becoming mainstream as you can see the Congress listed below in Geneva, Switzerland".
DISCUSSION
In Fig 1, below is one of our first Bio facial patients, in 2007, using PRP. Note the neck and jaw enhancement, as well the fullness in the cheek areas. This patient's had both injections of PRP and micro needling of her skin.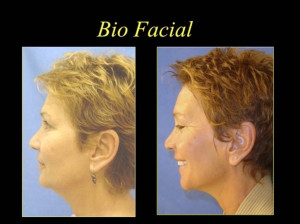 While we still use PRP, since 2007 our technology has progressed and in bio-facial rejuvenation treatments today we use CRP, a more refined form of PRP, there are no cells just "analytical grade growth factors in a protein matrix complex".
In addition to the growth factor/extra cellular matrix complex, which promotes new collagen synthesis, we also utilize a proprietary formula of vitamins, anti-oxidants and vital nutrients with the CRP. The reason for this is with the aging process (hormonal changes) and photo aging (sun damage) important intracellular nutrient's are lost and this formula replaces and restores these lost nutrients.
Treatments can be more aggressing with injections for specific areas including mid face fullness, nasal labial folds, around the eyes etc. or simply focused on what you would like to accomplish.
You do not have to go to Europe to achieve what we have been developing and teaching physicians the past five years.