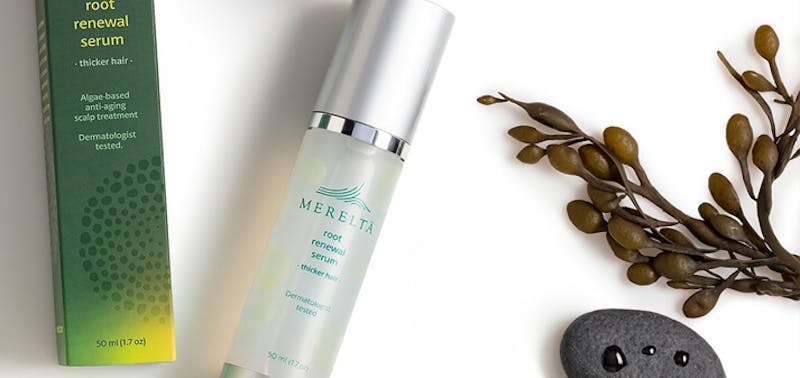 "Shedding, burning and itching scalp" are some of the most common complaints I hear on a daily basis and generally the underlying issue is "inflammation". Over the years I have tried and tested many hair products and "I absolutely love this product"! …….Dr Greco
Merelta focuses on simplifying the path to improved hair heath, using nature as inspiration. It is a special patented microalgae, pioneered to create a nourishing scalp treatment that strengthens the hair follicle promoting healthier hair growth.
Oxidative stress accelerates the scalp's aging and can damage the hair inside the follicle before its emergence from the scalp, causing hair shedding, hair loss and premature baldness.
Merelta Root Renewal serum is a breakthrough discovery that nourishes the scalp, the source of hair, and transforms limp, fragile and thin hair. It is a powerful anti-inflammatory that can reduce itching, burning scalp. In our studies it is one of the few products that help normalize shedding hair.
Free of sulfates, parabens, silicones, and cruelty-free, Merelta Root Renewal serum can be used in combination with all other hair care products. Root Renewal serum is applied directly onto the scalp. Scalp is skin, and Root Renewal serum nurtures all types of scalp and hair.
Root Renewal serum is a spray that leaves no residue on the pillow or clothes or your scalp and patients like the fact that it can be sprayed on wet or dry hair.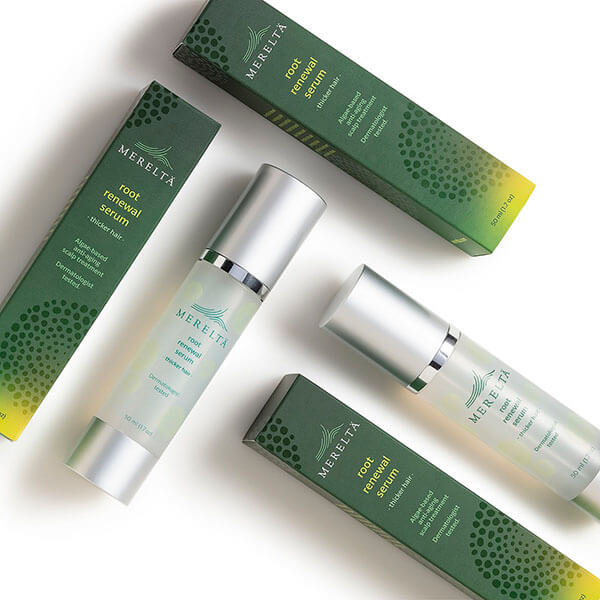 For optimal results such as reducing shedding and restoring thicker and healthier hair, improving volume, thickness, texture and overall hair health, use Merelta Root Renewal serum anti-aging scalp treatment once daily for 3 to 6 months. To maximize your hair results and make sure that the full length of your hair is healthier, use the Merelta Root Renewal serum daily for 6 to 12 months.
Part the hair and spray on the SCALP Use 8-10 sprays PER EACH application (no need to saturate the scalp) Apply ONCE a day, every day (You do not have to wash the hair every day in order
to use Root Renewal. On days when you do not shampoo/ condition, spray Root
Renewal serum on dry scalp at night) Massage in 20-25 seconds per each application