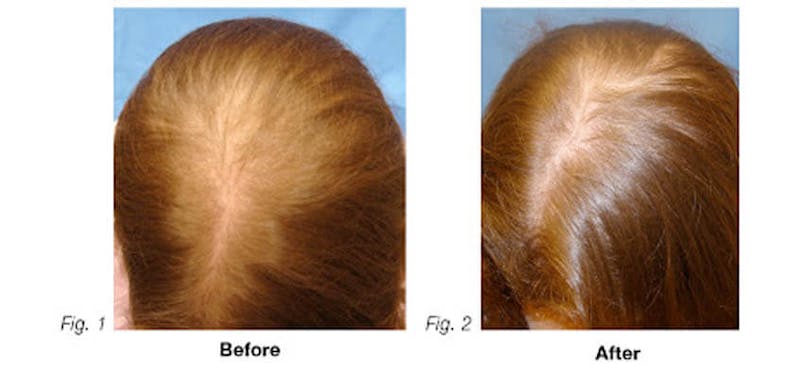 New Independent Study Demonstrates "New" hair growth and "Denser" hair with PRP
PRP for Androgenic Alopecia
by Gilbert Amgar, MD and Pierre Bouhanna, MD, Paris, France. Dr Gilbert Amgar and Pierre Bouhanna, MD, both physicians who are experienced in hair restoration and autologous cellular therapy, have completed a study utilizing PRP for male and female pattern hair loss. Dr Bouhanna, an eminent Dermatologist and author of numerous textbooks in hair transplantation, concluded that the growth factor's in PRP increase the density of hair and also causes new hair growth. This is a before slide on the left and after slide on the right demonstrating an increase of 22.4% in both new hair and denser hair at 3 months after PRP treatment.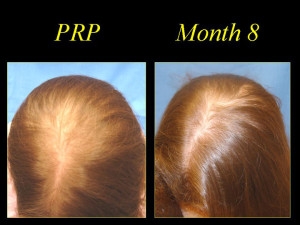 Slide #2 This is a comparison before on the left and after on the right demonstrating a 57% increase in new hair and 58% increase in density in this patient at 9 months.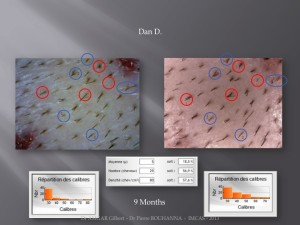 Conclusion:
This study verifies the growth factor's in PRP alone, "increase density of hair" and also promote "new hair growth". High levels of growth factors, over four times normal, were used and no WBC's, no RBC's, no concentrated matrix or A Cell was used in this study.
Comment:
This independent study by Drs.Amgar and Bouhanna is an important evidenced based study verifying what we have been saying since I first utilized PRP for non-surgical hair improvement in 2007. The combination of all the growth factor's in PRP are the essential ingredient to promote denser hair and new hair growth in non-surgical autologous cellular therapy treatments.
The best way to evaluate a patient is to arrange a personal, in-depth consultation. However, this is impossible for many patients who fly in from other parts of the country or world. For this reason we have developed the remote consultation package, which is an acceptable alternative to the in-person personal consult.
Once your photos and questionnaire are reviewed, we will telephone you to discuss your questions or concerns regarding the procedure. You will also be given a suggested treatment plan and the costs involved. Click here for more complete information on our free on-line hair restoration consultation process.