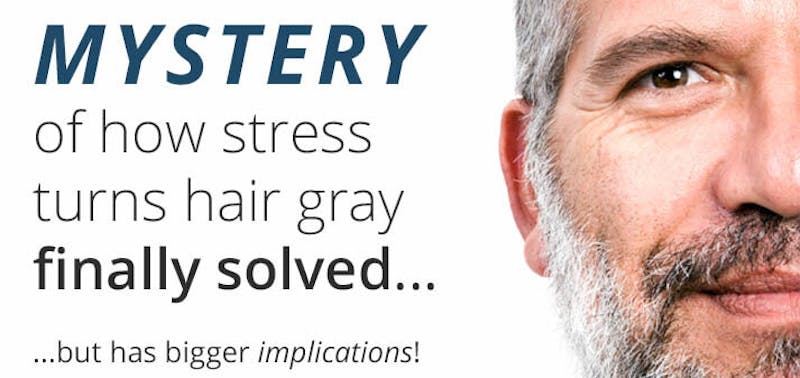 "The initial breakthrough arrived at Harvard when the researchers discovered that when mice are stressed, their hair begins to grow gray due to a depletion in specific stem cells that reside in the base of hair follicles".
"These stem cells turn into pigment-producing cells as hair grows, but "in times of great stress" these stem cells are over-activated. This depletes the follicle's reservoir of pigment-producing stem cells, causing the subsequent hair growth to become gray".
"Acute stress, particularly the fight-or-flight response, has been traditionally viewed to be beneficial for an animal's survival," explains Bing Zhang, lead author on the new study. "But in this case, acute stress causes permanent depletion of stem cells."
"By understanding precisely how stress affects stem cells that regenerate pigment, we've laid the groundwork for understanding how stress affects other tissues and organs in the body," concludes lead investigator Ya-Chieh Hsu. "Understanding how our tissues change under stress is the first critical step toward eventual treatment that can halt or revert the detrimental impact of stress. We still have a lot to learn in this area."
Over the years we have had about 4 dozed patients report and change in the color of their hair after regenerative treatments. See below, (Fig 1), a patient who had an infusion of IV Umbilical Cord – Medicinal Signaling Cells (MSC's) who has Lichen planopilaris (LPP), an autoimmune condition or scaring alopecia that destroys the hair follicle.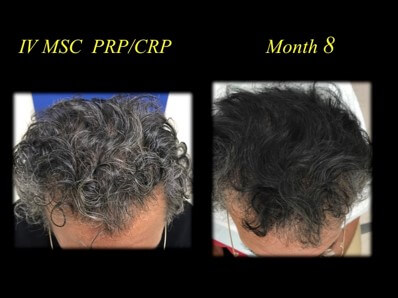 Interestingly, with no variation in lifestyle, this patient's PSA reduced from 2.9 to 2.1 and his LDL cholesterol from 129 to 90.
In Alopecia Areata (AA), an autoimmune disease where intense inflammation causes the hair follicle to transition into the dormant phase, the follicles are still there and have the ability to regenerate. The common preceding event is "stress" and when the hair regrows it comes in white, showing stress has depleted the hair follicle stem cells.
Fig 2 is another AA patient who received IV UCT-MSC's notice her hair in the second photo coming in white and these were her final results.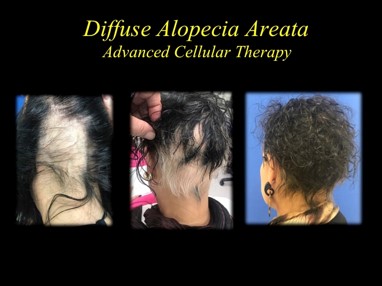 Fig 3, below, demonstrates another interesting example of regeneration of hair in Androgenic Alopecia (Male and Female Pattern). This is a 75-year-old female, post-breast CA and degenerative joint disease that had one IV infusion and these are her results after 6 months.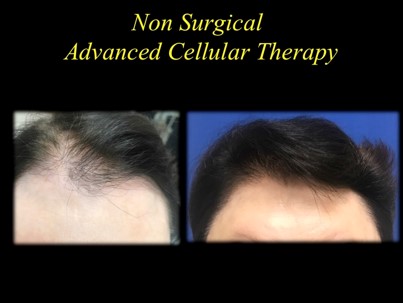 Regeneration of the frontal hairline is most difficult non-surgically. This patient colors her hair and has "high contrast" or dark hair on light skin, which is very difficult to not see, scalp.
In our hair study, we are seeing regeneration of hair in very difficult cases and increased hair growth. Patients are also experiencing positive side effects like reduction in chronic pain, improvement in vision, improved cognitive function etc. Patients blood values are also being compared before and after, tattoo digital photos and global photos, cell counts are done on each specimen to properly evaluate results.
This Harvard study is unlocking more than why hair turns gray with stress, but it answers what is going on with regeneration of the depleted stem cells in the hair follicle. Stress does not selectively limit its negative effects to the hair follicle, it does so to all organs. Therefore, by reducing systemic inflammation and building the immune system is it not also possible to modify (slow down) the end organ damage that inflammation causes?