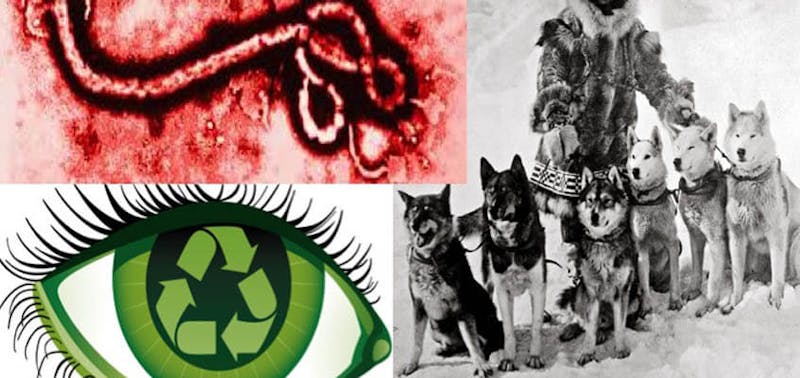 What do Ebola, the Iditarod dogsled race, and Regenerative Medicine have in common?
Hint: It's a high-tech medical treatment we turn to when all else fails. It's not the latest multi-billion dollar drug….It's not an FDA approved machine…and it's not a complicated surgical procedure. Answer: Our own immune system.
The two Texas nurses who contracted Ebola were cured using antibodies from the blood of an Ebola survivor.
The annual Iditarod dogsled race was started in homage to the 1925 humanitarian delivery of Antisera to save Native Alaskan children during a diphtheria outbreak. This Antisera was derived from the blood of horses that had been intentionally exposed to diphtheria.
Regenerative Medicine also works by harnessing the healing powers of our own body. It involves treating patients with growth factors and cytokines that have been isolated from their own blood. These growth factors in turn stimulate the patient's own stem cells and regenerative cells to begin the healing process. While traditional medical treatments for arthritis, tendon and ligament injuries, and chronic neck and back pain often involve drugs and surgical procedures, Regenerative Medicine is in fact the "natural" alternative.
We take for granted the amazing healing power of our own high tech bodies. The idea that the body can heal itself isn't new. Regenerative Medicine will continue to be in the forefront of life changing medical breakthroughs.
We don't have to look very far…we just have to look within.
The best way to evaluate a patient is to arrange a personal, in-depth consultation. However, this is impossible for many patients who fly in from other parts of the country or world. For this reason we have developed the remote consultation package, which is an acceptable alternative to the in-person personal consult.
Once your photos and questionnaire are reviewed, we will telephone you to discuss your questions or concerns regarding the procedure. You will also be given a suggested treatment plan and the costs involved. Click here for more complete information on our free on-line hair restoration consultation process.