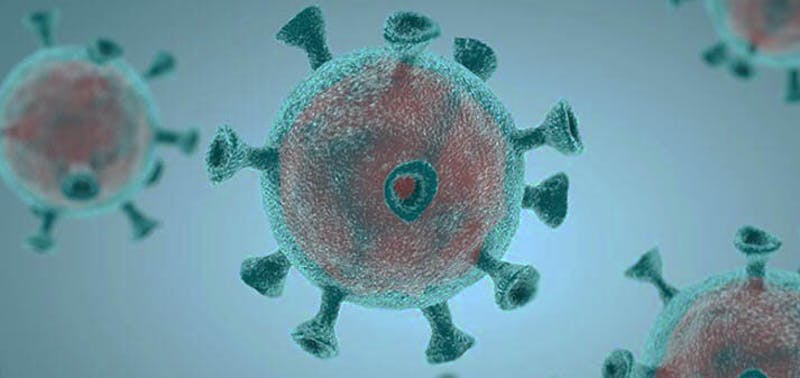 Like SARS, the novel coronavirus attacks the human body by attaching to the angiotensin-converting enzyme-2 (ACE2), a protective enzyme against lung damage. In severe cases, the virus induces a cytokine storm in the lung, an exaggerated immune response, causing more inflammation. As immune cells deplete and the system weakens, other organs as well as the lungs may also be damaged. This is particularly true for those with pre-existing conditions, such as cardiovascular disease.
"The inflammation and immune damage caused by COVID-19 made me consider the feasibility of using MSCs as a treatment." said Robert Chunhua Zhao, from School of Life Sciences at Shanghai University, who led the study. Capable of giving rise to cells of different lineages, and known for their anti-inflammation and immune regulation functions, MSCs are one of the most studied adult stem cells. They have long been used in clinical studies as a promising cell therapy for many autoimmune and degenerative diseases, according to Zhao.
MSCs have the ability to differentiate into a variety of cell types and are able to resist viral attacks with the expression of interferon gamma stimulated genes (ISGs). With the ability to express ISGs, stem cells would be expected to survive even when transplanted into a patient with an active COVID-19 infection. Stem cells rejuvenate and regenerate cells in the body through various processes involving reduction of inflammation, secretion of substances that protect cells, transfer of mitochondria, reduction of cell death, anti-oxidative effects and improvement of immune system function. These effects are likely to increase survival in patients infected with COVID-19.
Additionally, there is evidence of stem cells aiding in the protection against viral infection. The influenza virus A/H5N1 is known to cause acute lung injury. With the injection of human MSCs, A/H5N1 was reduced in mice and the treatment increased rates of survival (Chan, et al, PNAS 113:3621, 2016).
By regulating inflammatory responses and promoting tissue repair and regeneration, MSCs appeared to improve even severe symptoms of patients, helping them recover. "MSCs secrete anti-inflammatory factors to prevent the cytokine storm, suppressing over-active immune response." Moreover, the team found that MSCs do not express ACE2, and thus, are unable to be infected by COVID-19.
In response to this global public health pandemic, the international research community is accelerating efforts to tackle the strain. Among the numerous clinical trials being undertaken, a collaborative project led by researchers from Shanghai University and Peking Union Medical College (PUMC), Chinese Academy of Medical Sciences is investigating the potential of using mesenchymal stem cells (MSCs) to reduce the severity of COVID-19, and researchers are encouraged by their findings.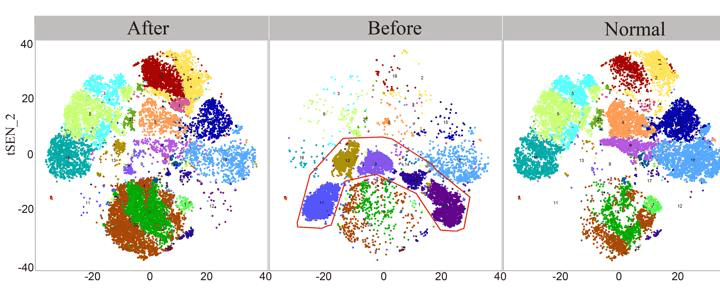 Mass cytometry results of peripheral blood mononuclear cells of a critically severe patient suggest that the numbers of cell subsets were almost back to normal after MSC transplantation. Credit: School of Life Sciences, Shanghai University.
Since it was launched, the study has treated 31 COVID-19 patients, all showing improvements. "We plan to continue the trial," said Zhao. "Effective therapeutics will be available for patients soon."
The study also suggests MSC transplantation may have potential for other virus- induced pneumonias. "Cell therapy is an inevitable trend," Zhao said.