Undetectability is the goal in Hair Restoration Surgery. Naturalness in both the donor and recipient areas is an essential standard today. We achieve this through our experience, surgical technique, and biologics.
Follicular Unit Transplantation (FUT) is a State of the Art procedure utilizing only microscopically dissected follicular units (or 1's, 2's, 3's and 4 hair grafts) in the recipient area to create an undetectable natural hairline. See Fig 1 Below.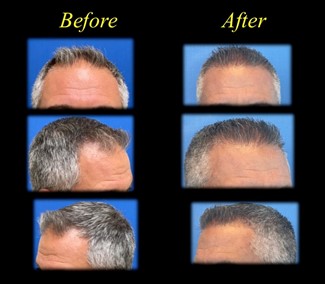 Greco Medical Group utilizes a patented biologic process to enhance healing in the donor area, to achieve an undetectable donor scar, if a strip is used, to extract the donor hair in the FUT procedure. Surgical technique and the regenerative healing proteins allow us to achieve this goal and enables the patient to wear their hair shorter. See the video below Fig 1 of a FUT donor site after a Bio enhanced FUT.
Click on Video to see the donor site
Follicular Unit Extraction (FUE) is another State of the Art permanent hair restoration procedure where individual grouping of hairs are harvested from the donor area that leads to undetectability in both the donor and recipient area.
The next Blog post will feature our newest advanced instrumentation used in this FUE procedure.

CALL TODAY TO BOOK YOUR APPOINTMENT! (941) 952-3300